Auto Parts

Flanges

Hydraulic Jack Parts

Pipe /Tube Fitting

Farm Equipment

Transmission Parts

Industrial Valves

Industrial Valves

Industrial Valves

Industrial Valves
MANUFACTURER & EXPORTERS OF FORGING PRODUCTS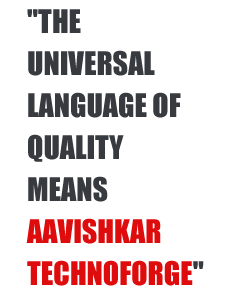 Aavishkar TechnoForge is one of the leader of delivering industrial and auto components. Closed die steel forging's manufacturer and exporter. We can also provide facility like ring rolling, upset forging and preciosn machined parts as per your requirements.
Started its operation in 2012 with personal experience in forging industry since 2005. Today it is going to be among the largest and technologically advanced manufacturers of forged and machined components.
We are committed towards total satisfaction of our customer though product conceptualization to designing, manufacturing, testing and timely delivery. We have capabilities to do forging in carbon steel, alloy steel and stainless.

WHAT CAN WE DO FOR YOUR REQUIREMENTS ?